Mosquitoes
Grow your own pest control, and perhaps never buy bug spray again!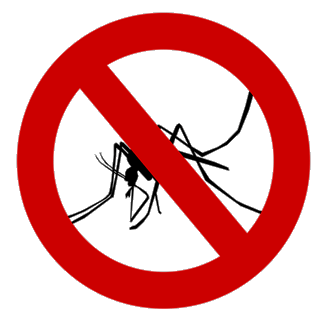 Look: mosquitoes are awful. They may be great food for birds and bats, but you don't want them hanging around your backyard. You also don't want to cover yourself in harsh chemicals to repel them. So, aside from making your property less friendly to the buggers by getting rid of any standing water (including those rain gutters!), what can you do to keep them away?
It turns out that mosquitoes, along with many biting insects, are attracted to certain odors in human skin. They're especially attracted to your body odor and other secretions, meaning that if you're spending a lot of time running around and sweating, you can expect to have more mosquitoes following you around. Alternately certain strong or unpleasant odors to the bug can either hide your scent or dissuade them from getting close enough to bite you. There are several plants with strong scents that we find pleasant, which you can use to help mask your own smell and keep nearby mosquitoes at a distance.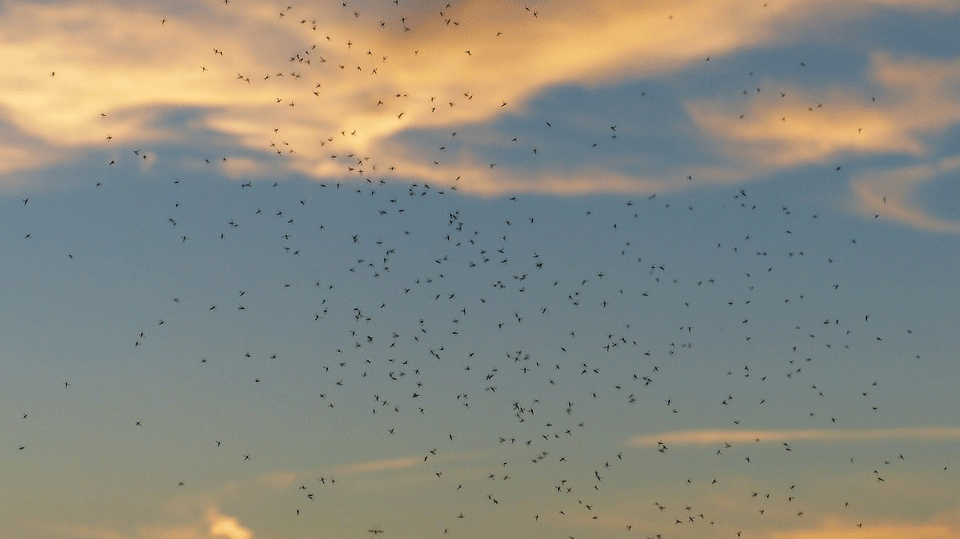 You can't just plant and be done, however. The aroma needs to be in the air around you, at the very least, and ideally on your skin. To get the maximum effect, crush herb leaves in your hands to release their perfume, and then rub the leaves and their oils over your skin. Here are several herbs and flowers that work great and can be kept in pots on a porch, near a door, or anywhere else you plan to congregate outside.
"There are several plants with strong scents that we find pleasant, which you can use to help mask your own smell and keep nearby mosquitoes at a distance."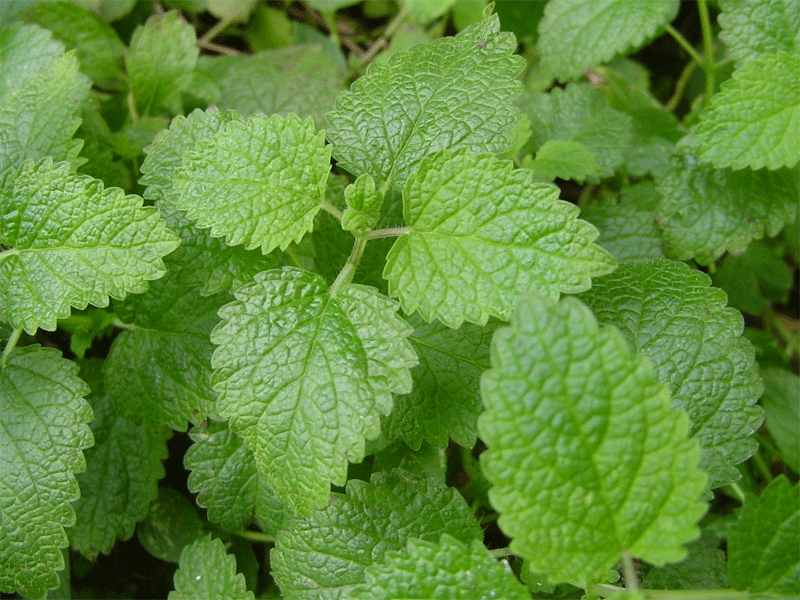 Lemon Balm
This member of the mint family has white flowers and a gentle lemony scent, as well as some healing properties. It's particularly good at keeping biting insects away, but it's also an invasive species, so be careful when growing it.
Catnip
This fragrant mint cousin contains a chemical called nepetalactone, which is both a feline attractant and a useful insect repellent.
Basil
A 2009 study showed that the essential oil from this delicious herb is toxic to mosquito larvae.
Repels houseflies and mosquitoes. Plant basil in containers by your house doors and in outdoor areas where you like to relax or entertain. Basil is delicious in salads, in many pork and chicken recipes and with a variety of soups. You also can use fresh basil to make an insect repellent spray. A simple recipe calls for pouring 4 ounces of boiling water into a container holding 4 to 6 ounces of clean, fresh basil leaves (stems can be attached), letting the leaves steep for several hours, removing the leaves and squeezing all of the leavesí moisture into the mixture. Then thoroughly mix 4 ounces of (cheap!) vodka with the basil-water mixture. Store in the refrigerator and apply as a spray when going outdoors. Be sure to keep the spray away from your eyes, nose and mouth.
Lavender
Repels moths, fleas, flies and mosquitoes. Lavender has been used for centuries to add a pleasantly sweet fragrance to homes and clothes drawers. Although people love the smell of lavender, mosquitoes, flies and other unwanted insects hate it. Place tied bouquets in your home to help keep flies outdoors. Plant it in sunny areas of the garden or near entryways to your house to help keep those areas pest free. You can also use oil extracted from the flowers as a mosquito repellent you can apply to exposed skin when going into the garden or patio. The Everything Lavender website has a guide for extracting the oil and making a lavender-infused body oil. Added benefits are that lavender oil nourishes the skin and has a calming effect that induces sleep.
Mint
Repels mosquitoes. Mint is best grown in pots rather than the ground because it spreads aggressively. Once established in the garden, it can be difficult to remove. The leaves are commonly used to flavor iced tea. The aromatic properties found in the leaves are also present in the stems and flowers. With a little work, the plantís aromatic oils can be extracted and combined with apple cider vinegar and cheap vodka (or witch hazel) to make a mosquito repellent. Containers of mint strategically placed in the garden or on the patio will help keep nearby plants insect free.
Rosemary
Repels mosquitoes and a variety of insects harmful to vegetable plants. Rosemary is available in various forms. Plants can be grown in containers on a patio and shaped into ornamental pyramids, grown in herb gardens or planted in landscaped beds, where some varieties can grow quite large. Rosemaryís oils are as delicious to home cooks as they are unpleasant to many insects. The plant itself and its cuttings are effective repellents. You can make a simple repellent spray by boiling 1 quart of dried rosemary in a quart of water for 20 to 30 minutes and then straining the liquid into a container at least a half-gallon in size that contains a quart of cool water. Put a cap on the combined liquid and store it in the refrigerator. Add the repellent to small squirt bottles as needed when going outdoors. Discard the remaining repellent in the refrigerator when it no longer has a strong telltale smell of rosemary.
Sage + Rosemary
If you're planning to gather around a fire, try burning a little sage or rosemary. The incense these plants give off when they burn not only smells good but is unpleasant enough to the little critters that it'll keep them away as long as you're near the smoke.
Alliums
Plants in the Allium family, such as the dramatic Allium giganteum whose flower heads adorn stalks up to 6 feet tall, are regarded as a broad-spectrum natural insecticide. They repel numerous insects that plague vegetable gardens, including slugs, aphids, carrot flies and cabbageworms. Plants that will benefit from the proximity of alliums include tomatoes, peppers, potatoes, cabbage, broccoli, kohlrabi and carrots. They also will keep aphids off rose bushes. Alliums include small-growing herbs such as chives and garlic chives, leeks and shallots.
Chrysanthemums
Repels roaches, ants, Japanese beetles, ticks, silverfish, lice, fleas, bedbugs, spider mites, harlequin bugs and root-knot nematodes. The ingredient in chrysanthemums that makes them so effective as an insect-repelling companion plant is pyrethrum. Because pyrethrums can kill flying and jumping insects, they are used in Americaís most commonly available home and garden insecticide and are frequently used in indoor sprays, pet shampoos and aerosol bombs. Although chrysanthemum flowers can be used to make an insecticidal spray, pyrethrum can be carcinogenic to humans and care should be taken in using them in this form. Make sure you know the risks.
Marigolds
The scent from various types of marigolds repels aphids, mosquitoes and even rabbits. The roots of marigolds are well known among farmers to repel nematodes, though those qualities require a year to take effect. Grow marigolds as an annual here in Kansas, mixed in along the border of your flowerbeds or interspersed throughout your vegetable garden. Although marigolds are easy to grow in sunny locations, they can fall victim to gray mold, several types of leaf spot, powdery mildew, damping off and root rot.
Nasturtiums
Repels whiteflies, squash bugs, aphids, many beetles and cabbage loopers. Nasturtiums could be considered the poster child for companion planting, which is growing a variety of plants close to one another for the benefits each brings to the others. Nasturtiums release an airborne chemical that repels predacious insects, protecting not just the nasturtium but other plants in the grouping. Because many of the insects nasturtiums repel favor vegetables ó tomatoes, cucumbers, kale, kohlrabi, collards, broccoli, cabbage and radishes ó nasturtiums are an idea choice for planting along the edges of vegetable gardens. Fortunately, nasturtiums do not repel the all-important pollinator ó the bumblebee.
Petunias
Repel aphids, tomato hornworms, asparagus beetles, leafhoppers and squash bugs. Some people think of them as natureís pesticide. They are popular mostly because they are available in a variety of bright colors, require such minimal maintenance they are almost foolproof to grow and can be grown in garden beds, containers or hanging baskets. Plant them in sunny areas near vegetables and herbs such as beans, tomatoes, peppers and basil.
Other ornamental flowers:
– Common lantanas: Repel mosquitoes.
– Four o'clocks: Attract but poison Japanese beetle.
– Geraniums: Repel leafhoppers.
– Narcissus: Repel moles.
But know that simply including insect-repelling plants in your landscape will not in itself ensure your garden is insect free.
There's not enough research in this area to support that, says Dr. Bodie Pennisi, an associate professor and extension landscape specialist at the University of Georgia's Griffin campus. ìThe concentration of oils is not there to offer that kind of protection.
There may be fewer insects, but no oneís done the research into how many plants, planted how close together, would be effective in repelling insects to any great extent, says Pennisi. One of the best things people can do to hold down mosquito populations, she advises, is to eliminate any standing water, which is where mosquitoes breed.
Article courtesy of rodalesorganiclife.com & mnn.com
In Our Gift Gallery We Have Z-Fence!
Mosquitoes are not only annoying, but they also carry a number of serious diseases like malaria, yellow fever, typhus, West Nile virus, and Zika. And many mosquito repellants today contain DEET, which is effective, but not very safe, especially when it comes to children. Did you know that only about a third of insect repellants on the market today are safe for kids?
With the introduction of Z-Fence, an all-natural line of defense against mosquitos and flying insects, we're taking a natural solutions approach to the next level!
How It Works
The Z-Fence line is based on specially-formulated repellents that are gentle, all-natural, and safe for the whole family. They work through a slow-release technology, which diffuses into soft material so it releases at a steady and consistent rate. The release of the repellant creates a 6-foot wide "safe zone" around the user or area, which serves as a barrier against insects.
The ingredients used in Z-Fence products are made from a mix of plant extracts, including geraniol, thyme, geranium oil, peppermint oil, and citronella. These are all registered with the EPA as acceptable active ingredients with minimum risk. These products have also been tested at an independent lab here in the U.S. to make sure they are both safe and effective.
What We Offer
For outdoor lovers, we have a variety of wearable items that include a similar natural, slow-release repellant built in. Even with all-natural repellant formulas, some people can have reactions to putting insect repellant directly on their skin, and our wearable products offer a great alternative. The braided Z-Bracelet is actually infused with the natural repellant. The Z-Clip offers the same protection, which easily goes anywhere. The bands and clips each include 2 tablets, which last up to 120 hours, so there's no need to re-apply like you would with a spray. Packs of extra Z-Tablet refills are of course available. For additional on-the-go flexibility, our Z-Pouch lets you clip a repellent tablet almost anywhere, and our Z-Stickers let you add a barrier against bugs literally anywhere
With Z-Fence, you can stop worry about the dangers of mosquitoes and harmful chemicals, and get back to enjoying life outdoors!