About Us
Stutzmans Greenhouse now has 12 Garden Centers across Kansas!
More Information About Us ...
Our Mission
To be a leader in the horticultural industry with the highest standard of excellence in all aspects of our business. To promote a high level of integrity as required by God. To strive to be responsive to our customers needs, mindful that they are our future.
Tours
Wholesale customers are welcome to tour our greenhouse facilities; however, due to liability concerns, tours are by appointment only. To make your visit as pleasant as possible we request that you call at least 24-hours in advance.
How It All Started
1956 – 1980
Ervin and Emma Stutzman starts Stutzman Greenhouse Born out of a passion for growing flowers and vegetables, Ervin and Emma took that passion into the surrounding business community. Selling vegetables directly to supermarket stores, and bedding plant flowers thru Stutzman's Retail store, Ervin and Emma capitalized on the strong work ethic, so integral to the Amish-Mennonite tradition.
1980 – 1985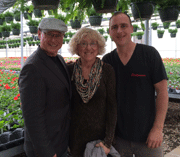 Ben Miller, a cousin of Ervin Stutzman, joins the business as an employee 1985 Ben Miller, along with his wife Marlene, purchased Stutzman Greenhouse. As new markets opened up, Stutzman's expanded to what is currently nine covered acres of growing space in three locations. In addition, we have an ever-expanding outdoor growing range. As Stutzman's grew, shipping and transportation became a major factor. Under Ben and Marlene's leadership, Poinsettias, Fall Garden Mums and Spring Bedding plants experienced aggressive growth. Along with exceptional product, Stutzman's reputation solidified as a leader in the horticultural industry.
2004 – Present
Stutzman's Apple Lane Location is Opened The Apple Lane Location opened April 15, 2004. The Apple Lane location is just South of 30th Street near K61 in Hutchinson, KS. The Apple Lane location is a true gardening center carrying gardening tools, supplies as well as plants grown at our Pleasantview Greenhouses.
2006 – Present
Stutzman's Pratt Location is Opened The Pratt Location opened April 1, 2006. It is located at the junction of US54 & US61 Hwys. in Pratt, KS. 2007 – Present Stutzman's is on Cloud 9 with New Salina Location The Salina Location opened April 1, 2007. It is located on 9th & Cloud in Salina, KS.
2009 – Present
Stutzmans in Wichita is Opened The Wichita Location opened in April of 2009. It is located on 13th & Tyler (Northwest Center). It is a seasonal garden center that will be open from April thru October.
2011 – Present
Stutzmans in McPherson Opened The McPherson Location opened in Spring of 2011. It is located at 200 E. Kansas. Stutzmans in Newton is Opened The Stutzmans Garden Center in Newton is located at 314 N. Main.
2013 – Present
Stutzmans at Cambridge Market in Wichita (9747 E 21st Street North) opened in fall 2013 and will reopen for spring 2014.
Stutzmans Garden Center in Dodge City (2601 Central Ave) opened in 2013 and will reopen for spring in 2014